Anything Goes
published: Fri, 28-Oct-2005 | updated: Wed, 4-Jan-2017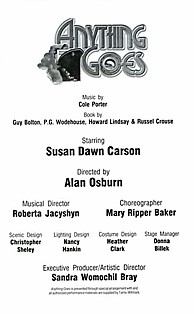 Sir Evelyn Oakleigh in Anything Goes, music by Cole Porter, book by Guy Bolton, P.G. Wodehouse, Howard Lindsay, and Russel Crouse, for the Fine Arts Center Repertory Company at the Fine Arts Center, Colorado Springs. Directed by Alan Osburn. September/October 2005.
Wow, the first time in many years that I've appeared in a musical and had to sing. And had to dance. Not only that, I also played an Englishman and didn't have to worry about my accent not fitting the part somehow. And, then, to top it all, it was a romantic role! I got to fall in love and melt the audience's heart!
Yes, this time round I played Sir Evelyn Oakleigh, aristocratic, dashing, and did I mention English? A comic role to be sure, but a very fulfilling one. Evelyn starts off engaged to Hope and by the end of the piece is hopelessly in love with Reno (and Hope-less since she's gone off with Billy), and she with him. The only way to play the role was perfectly straight. He is a bit of a dim bulb (and almost certainly was written by Wodehouse), but the essential comedy and humanity of the character only comes out if you believe he is absolutely forthright in himself and in everything he does.
My character's song was a duet with Reno Sweeney, superstar nightclub singer, so I had essentially half a song. It was still nerve-racking, especially the night the battery in my mic died and I had to belt the song out.
My two leading ladies were beautiful and talented and could sing my socks off. Many thanks to Susan Dawn Carson and Amy Sue Hardy for bearing with me.
As it turned out, for medical reasons, Ray Bendana couldn't do any of the performances after the first weekend, and so Dylan Mosley was "promoted" from the Male Ensemble to become Moonface Martin and we persuaded Dante Martinez to be part of the Male Ensemble. That second week was a flurry of extra rehearsals getting Dylan into the part, brave chap.
Cast
| | |
| --- | --- |
| Elisha J. Whitney | Tim King |
| Sir Evelyn Oakleigh | Julian Bucknall |
| Hope Harcourt | Amy Sue Hardy |
| Mrs. Wadsworth T Harcourt | Karen Carolan |
| Reno Sweeney | Susan Dawn Carson |
| Billy Crocker | Kaleb Kohart |
| Moonface Martin | Ray Bendana |
| Bonnie | Sara Borgeson |
| Reno's Angels | |
| Purity | Astraea Hadley |
| Chastity | Anita Lane |
| Virtue | Rachel Gavaletz |
| Charity | Kate DeRoush |
| Captain | David Plambeck |
| Purser | Brantley Haines |
| Female Ensemble | Liz Ball |
| | Stephanie Bonebrake |
| | Jessica Heinrichs |
| | Rachel Mestrovich |
| Male Ensemble | Jordan Arrick |
| | Ben Burch |
| | Andrew Fountain |
| | Andrew Fritz |
| | David Isaacson |
| | Dylan Mosley |
Review from the Gazette
Anything Goes

'Anything Goes' anything but passé
by Mark Arnest

October 07, 2005

What on earth possessed The Rep — the Fine Arts Center's theater-producing arm — to give its season-opening spot to a show as motheaten and hackneyed as "Anything Goes"?

This seems like a reasonable question — until you see this sparkling production, which turns back the clock to a time before moth holes in a feast of garish color and glorious music. With Broadway veteran Susan Dawn Carson providing the star power, Cole Porter's 1934 art-deco musical becomes the perfect vehicle to open the center's renovated art-deco theater.

The setting is an ocean liner, lovingly recreated by set designer Christopher Sheley. The characters include a lovesick man and the woman of his dreams; her likeable but clueless English fiancé; her bellicose mother; an evangelist turned nightclub singer and her bevy of high-kicking beauties; public enemy No. 13 and his moll; and, just for fun, a couple of gambling Chinese.

But the real star is Porter's inspired music and lyrics. With "You're the Top," "I Get a Kick Out of You," "Anything Goes," "Blow, Gabriel Blow," and "All Through the Night," the score was one of Porter's strongest even before "It's De-Lovely" and "Let's Misbehave" were interpolated after Porter's death.

Carson is one local performer you absolutely must not miss. As former evangelist Reno Sweeney, she puts on just a hint of Mae West along with expert hoofing and world-class singing. She shows off a perfect legato and sensitivity to the words in "I Get a Kick Out of You," and "Blow, Gabriel, Blow" has strength and spirit to burn.

And the rest of the cast ain't hay. Kaleb Kohart makes Billy into a suave and appealingly brash figure. As Billy's beloved, Hope, Amy Sue Hardy sings like an angel. Julian Bucknall manages to be hilarious as a straight man, Sir Evelyn. (He's an Englishman playing a parody of an Englishman.) As Moonface Martin, Ray Bendana is as likeable a thug as you'd ever hope to meet; and Sara Borgeson is irresistibly appealing as his amiable moll, Bonnie.

Alan Osburn's direction is deft and lively. He knows how much simultaneous business a stage can handle without pulling focus from the main story. The acting is suitably broad, but never over the top. The pace is fast but not frantic, and everybody seems to have fun.

The million or so costumes designed by Heather Clark and Mary Ripper Baker's exuberant choreography add to the colorful period atmosphere. As always at The Rep, the dancing is top-notch, as is the hugesounding nine-piece band, conducted by Roberta Jacyshyn.

The band benefits as much as the singers from the renovation: To borrow from another Porter song, the sonic improvement is like night and day.
(c) The Gazette 2005