Arsenic and Old Lace
published: Fri, 6-Feb-2004 | updated: Wed, 4-Jan-2017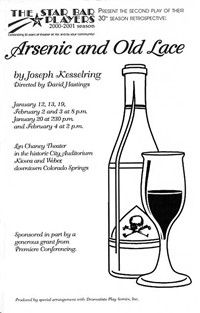 Jonathan Brewster in Arsenic and Old Lace by Joseph Kesselring for Star Bar Players at The Lon Chaney Theater. Directed by David Hastings. January 2001.
A classic American comedy from the 1940s. It's a hoot of a show, very silly and farcical, and we went hell for leather for it. It was filmed in 1944 with Cary Grant as the "nice" brother Mortimer and directed by Frank Capra a couple of years before he really made his name with It's a Wonderful Life.
I played Jonathan Brewster, the evil gangster brother. That part was originally written for Boris Karloff, and so I played Jonathan as a kind of mix between Dracula and Frankenstein's monster. I just loved my initial entrance: the lights were out as the Brewsters tried to pretend they weren't in, the front door swung open and I was there, backlit and my body and face sharply outlined. I stood there for 3 or 4 seconds, before walking majestically into the dark room. Great fun.
The director and cast were great too, many friends were present: David, Ricky, Greg, Bonnie, and Phil. Greg did a brilliant rendition of Dr. Einstein (a part played in the movie by Peter Lorre), and we just had the best time.
Things to recall and savor in the remembrance? The body and the window seat. In case you didn't know, the two old Brewster aunts of Mortimer are in the habit of dispatching lonely old bachelors to the other side with their own arsenic-laced wine. One of them ends up in the window seat (I can't remember how), only to be discovered by various other people, including the drunken Dr. Einstein, who manages to fall into it in the dark. Greg dutifully fell into the window seat, jarring the window, which slowly opened, inadvertently locking him into the seat. I was behind the set and saw what had happened. I gently had to reach in hoping the audience wouldn't notice and pull the window shut, so that Greg could get out. Of course, the body was a shop dummy kind of thing, and the arms and legs would tend to fall off at the wrong moment.
There was also the torture scene. Greg was a nurse at one of the local hospitals and was able to borrow a few old surgical instruments. I had the greatest time snapping on the latex gloves with a mad gleam in my eye and trying out some of the nastier looking implements. Brilliant, just brilliant. (I really enjoyed working with Greg, but unfortunately he moved to Atlanta shortly thereafter.)
What else? Stephen, playing one of the officers, had to bash me over the head with a night-stick. We had a joke night-stick made of foam and being hit with it was like being hit with a pillow. But, for whatever reason, he just refused to do it, hitting me on the upstage shoulder instead. Very annoying, especially as I had this whole bit of shtick going on after being hit (I'd drop to my knees, with a silly smile on my face, cross-eyed, and then slowly crash face-down on the floor).
Something I'm not too happy about: I auditioned and got the part of Jonathan and, after the first two or three rehearsals, I found out that I would miss a couple of performances on the second weekend of the show (a conference elsewhere). I felt really bad about it and offered to resign from the show. David wouldn't hear of it though and said that he cast me as Jonathan because he really wanted me in that role. He decided to do perform Jonathan himself for those two performances. Nevertheless, I did feel somewhat guilty about it all, for the cast and for the audience, especially after the Indy review came out.
Cast
| | |
| --- | --- |
| Abby Brewster | Bonnie Ross |
| The Rev. Dr. Harper | Phil Ginsburg |
| Teddy Brewster | Joe Ruffini |
| Officer Brophy | Stephen Edwards |
| Officer Klein | Tobias Severn |
| Martha Brewster | Marge Gentry |
| Elaine Harper | Heidi Steggall |
| Mortimer Brewster | Ricardo Vila-Roger |
| Mr. Gibes | Buck Buchanan |
| Jonathan Brewster | Julian Bucknall |
| Dr. Einstein | Greg Smith |
| Officer O'Hara | Adam Burns |
| Lieutenant Rooney | Phil Ginsburg |
| Mr. Witherspoon | Buck Buchanan |
Review from The Gazette
Star Bar's 'Arsenic' triumphs with strong dose of manic activity, silliness

By Mark Arnest; The Gazette

The audience at the Lon Chaney Theatre last Friday night was the largest I've ever seen at a Star Bar Players production - and the lively rendition of Joseph Kesselring's "Arsenic and Old Lace" did not disappoint. No one who sees this show will ever touch elderberry wine again.

"Arsenic" is simply one of the finest American farces. It's as busy as a circus, and its combination of the silly and the macabre influenced a whole generation of comedies. "Arsenic" tells the story of two little old ladies in Brooklyn who poison old men who come to their house looking for a room to rent, and have their mad nephew, who thinks he's Teddy Roosevelt, bury them in the basement.

This tightly written, beautifully paced play contains several enduringly delightful bits of business, such as a scene in which theater critic Mortimer describes how a man was gagged and trussed up in a bad play he's just seen - while right behind him, his evil brother Jonathan prepares to act it out with Mortimer as the victim.

But a lot of the credit goes to the Star Bar's straightforward, well-prepared production. The risk a community theater runs in staging a show with so many characters — 14 — is that the odds are high some performer will be bad enough to bring things to a halt. That doesn't happen here, which reflects highly on David Hastings' direction. Not everyone in the cast is stellar, but there's a good sense of ensemble, and everyone knows just whom his or her characters are. And Hastings manages the blocking in this busy play — in which, like a real circus, it's common to have several things going on simultaneously — so that the audience always seems to be looking in the right place.

Not that there aren't stellar performances. As Mortimer, the only sane Brewster, Ricky Vila-Roger has some memorable double takes and gives the play the hint of sanity required for the insanity to be funny. As his aunts, Bonnie Ross and Marge Gentry project airs of quietly cheerful madness, blithely unaware the murders they commit are somehow wrong.

Joe Ruffini is loudly over the top as Mortimer's brother, Teddy, a.k.a. Teddy Roosevelt, while as the evil Jonathan, Julian Bucknall manages to be menacing without sacrificing great comic timing.

Greg Smith steals some scenes as Jonathan's sidekick, Dr. Einstein — the criminal plastic surgeon Dr. Herman Einstein, that is — with his subtle physical comedy and goofy, Peter Lorre-esque voice. Phil Ginsburg is excellent in two walk-on roles — as the simpering Reverend Harper and the tense, doesn't-want-to-be-bothered Lieutenant Rooney.

E.J. Rankin's period set gives about as convincing a sense of old money as the small stage allows (though the high last step to the second level nearly killed one of the characters Friday night), and outfits from Saunders Costumes provide the rest of the 1941 atmosphere. The widow's garb for the elder Brewsters gets a laugh all on its own.
(c) The Gazette, 2001
Review from The Independent
Arsenic Good Recipe for Comedy

by Brooke Robb

What better choice for the Star Bar Players to kick off their retrospective season, celebrating 30 years of theater, than an uproarious production of Joseph Kesselring's Arsenic and Old Lace? The script itself is celebrating an anniversary of its own — it was first produced January 1941, exactly 60 years ago. Although a smidgen of the cultural references are outdated, the comedic bulk of this ingenious murder mystery is timeless.

They say of all the dramatic genres, comedy is the most difficult. It takes a certain magical recipe of timing, delivery and chemistry to pull off every joke. Sometimes they work, sometimes they don't. What must be so delectable about this script for an actor is that it's so chock-full of comedic opportunities; if one joke misses its mark, there's another one just around the corner.

But no matter how ingenious, no script is foolproof. Luckily, the cast of this production makes more hits than misses in a continual barrage of laughter. The audience was rolling nearly all the way through Act II on Friday's opening night of the performance.

The play takes place in the Brewster residence, the home of the town's two most hospitable old women: Abby and Martha. Their generosities abound, providing good meals, good drink and even eternal rest for their lonely lodgers. It seems they've taken up a bad habit of poisoning the lonely gentlemen for whom they feel sorry. The bodies are buried in the basement by Teddy, the deranged live-in nephew, who believes he's Teddy Roosevelt.

The sisters are visited by their sane nephew, Mortimer, who stumbles upon their maniacal mercy killings by accident. His attempts to save his aunts from the law are complicated when the evil third nephew, Jonathan, and his sidekick, Dr. Einstein, return to use the place as a hideout from the cops.

All in all, the cast is fairly strong. Perhaps most noteworthy is Julian Bucknall as the nefarious Jonathan. The role, originally written for Boris Karloff, demands a very strong stage presence, which Bucknall delivers with an unforgettable entrance.

He appears as a black silhouette at the door of the darkened Brewster home. He strolls in, transforming the once riotous comedic air into a cloud of foreboding doom. When the lights go up, the deepened lines of his brow sever the room as he delivers a penetrating gaze. Bucknall maintains the heaviness of character with a deep, resonant voice which he uses to lather each syllable of script. I especially got a kick out of his fastidious pronunciation of "laboratory."

But what could an actor do to produce Jonathan's serious mood without the contrasting chemistry provided by his sidekick, the wacky Dr. Einstein (played by Greg Smith)? Smith must have had fun inventing the little quirks of the Doctor. With his gangly, wiry frame, he lurches behind Jonathan, or rather "Chonny," in an awkward gait, rubbing his head in indecision. He, like Bucknall, uses his voice to produce the most fanfare — a raspy German accent reminiscent of Igor, Frankenstein's assistant.

Mortimer, played by Ricardo Vila-Roger, a shrimp in comparison to Bucknall's hefty frame, surprisingly holds his own against his threatening brother. Vila-Roger lends the character, played by Cary Grant in the 1944 film version of the play, a similar Cary Grant-esce hyper frustration.

I was slightly disappointed in one of the two sisters, Martha (played by Marge Gentry), who didn't seem to be completely present in her role and therefore failed to produce dramatic force equal to the other principal characters. Unfortunately, performances in some of the smaller roles weren't very convincing either, but their weaknesses didn't interfere with the flow of laughter.

If you're up for an evening of classic entertainment, Arsenic and Old Lace may be just the fix. Just don't be tempted to try the sisters' elderberry wine.
(c) The Independent, 2001