A Christmas Carol
published: Wed, 2-Jan-2008 | updated: Wed, 4-Jan-2017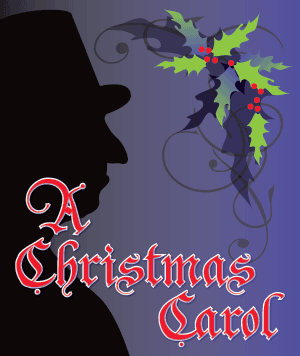 The Ghost of Christmas Present and the Poulterer in A Christmas Carol, story by Charles Dickens, music by Michel Legrand, book by Sheldon Harnick, for the Fine Arts Center Theatre Company at the FAC. Directed by Susan Dawn Carson. November/December 2007.
OK, weird one this. A musical adaptation of the classic A Christmas Carol by Dickens from 1981, but one that no one has ever heard of, and for which there is no cast recording. It's pleasant enough, concentrates on Scrooge's journey and redemption more than anything else, and has a teeth-on-edge syrupy song for the Cratchits. 25 people acting 60 roles, or so. Children out the wazoo.
Act I for me was all props and flying the set and holding it down and various ensemble bits. Nothing at all, particularly; just turning up at the right time to do the right thing.
But, wow, the Ghost of Christmas Present, what a role. He's eight foot tall and has this huge green sparkly costume over three (count 'em, three) layers of padding. Since I'm only six foot tall, something had to be done, and that something was dry-waller stilts. Yep, I had to learn to use stilts. Dry-waller stilts are these bizarre contraptions that you strap to your legs to boost your height for painting and for plastering and other jobs where using a stepladder would be too awkward or slow.
So I strapped these damn things on and learned how to walk all over again. By opening night, I was fairly steady with them on, by closing night I was virtually dancing with them.
Mind you, the way the play was structured meant that I lost each and every intermission. Essentially I came off from Act I as some anonymous Fezziwig party goer, changed out of that, put on a T-shirt and some shorts and my boots, got zipped up in the aforementioned three layers of padding, put on this frightful wig and beard, walked over to stage left, where there was a high chair, got my stilts strapped on, then the costume was put on me. A few tugs here and there to get it straight. My wooden staff was given to me, I walked out on stage, and the lights dimmed ready to go with Act II.
Amazingly I didn't fall off them. I wondered whether the padding would break my fall, but never had to try out the theory.
Character development? Er, there was none, really. I just went out there and interacted with Bob as Scrooge, and watched the various scenes the Ghost was showing Scrooge. About 10 minutes on stage, tops.
In my other "main" role as the poulterer (a whole one page of dialogue), I decided that, as everyone else had to put on an English accent, I ought to do something different from my normal way of speaking too. Enter — figuratively — my niece Laura, who has a quite broad Liverpudlian accent. In my mind's eye I just visualized how she would say the lines, and riffed off that. The band thought it was hilarious the first time they heard it: "Look, Ringo's on stage!".
Major bonus points for me was being with a bunch of people I love, acting with Bob Rais again (we actually shared a dressing room where we promptly dissected what was wrong with the show, the cast, the FAC, Colorado Springs, Colorado, the US, and the world) and meeting Natalie.
And another fun thing was blogging for the show on the FAC blog. It seems that they wanted to put the word out in as many different ways as possible, and that included radio spots (had to get up very early one Thursday to appear with the other Ghosts in the morning show on the Eagle, a local radio station) and blogging. I did probably ten posts for them or so.
Overall, the play did well for the FAC Theatre Company, but it certainly didn't extend me acting-wise. My balancing skills, sure, but not my acting skills particularly. The production would certainly not win any awards, although the audiences seemed to like it a great deal.
Oh, and never act with children. Really.
Cast
| | |
| --- | --- |
| Scrooge | Robert B. Rais |
| Fred | Raymond Andrew Bailey |
| Scrooge's Belle, Fred's Belle | Natalie Jensen |
| Bob Cratchit | Michael Augenstein |
| Christmas Past, Charwoman | Amy Brooks |
| Christmas Present, Poulterer | Julian M. Bucknall |
| Marley, Old Joe | Steve Emily |
| Undertaker's Man, Charity Man | David Hastings |
| Mrs. Cratchit | Sally Lewis Hybl |
| Mrs. Fezziwig, Laundress | Carmen Mock |
| Mr. Fezziwig, Ensemble | David Plambeck |
| Grocer, Ensemble | Craig Engle |
| Businessman, Ensemble | Oscar Robinson |
| Fruit Seller, Ensemble | Linda Roeming-Engle |
| Christmas Future, Charity Woman, Ensemble | Halee Towne |
| Young Scrooge, Ensemble | Marco Robinson |
| Belinda Cratchit, Ensemble | Mary Earle |
| Albert Cratchit, Ensemble | Logan Hybl |
| Tiny Tim, Ensemble | Mallory Hybl |
| Turkey Boy, Ensemble | Alex Killian |
| Lucy Cratchit, Ensemble | Casey Allison Lane |
| Fanny, Ensemble | Sara Volz |
| Martha Cratchit, Ensemble | Carmen Vreeman |
| Peter Cratchit, Ensemble | Patrick Yukman |
| Fiddler, Ensemble | Josh Zepf |
Review from The Gazette
'Carol' adaptation a ghost of its former self

By MARK ARNEST, THE GAZETTE

Bah, humbug.

I hate to be a Scrooge, but the Fine Arts Center Theater Company's "A Christmas Carol" is about as thrilling as a lump of coal.

A very pretty, well-produced lump of coal, to be sure. But even a strong cast and elaborate staging can't transform it into a diamond.

The problem lies mainly with this musical adaptation of Charles Dickens' story about a miserly old man visited by ghosts who teach him about the spirit of Christmas.

Sheldon Harnick's script and lyrics stray too far from the original's tone, making explicit what Dickens merely implied. It's Dickens for dummies.

But at least Harnick's lyrics are clever and inventive. Michel Legrand's music never rises above the commonplace. He substitutes melodrama for darkness, and treacle for radiance.

The low point is the Cratchit family's mawkish "One Family." Intended to be the show's emotional climax, it's essentially a rehashing of "I'd Like to Teach the World to Sing." The music actually weakens the scene's mood.

The show's weakness makes Robert Rais' outstanding performance as Scrooge even more impressive. True, he's not Dickens' Scrooge at the beginning — rather than being cold, he rages at the world — but he's convincing from hostile start to joyous finish. Other standouts in the 25-member cast include Amy Brooks, elegant as the Ghost of Christmas Past and casually sinister as a charwoman; Michael Augenstein's meek, browbeaten Bob Cratchit; and Julian Bucknall's avuncular Ghost of Christmas Present.

The excellent acting doesn't carry over to the singing, which falls short of the center's other recent productions.

Director Susan Dawn Carson and the production staff have lavished imagination on "A Christmas Carol." Lloyd Sobel's lighting is nothing short of magical. The staging moves smoothly, with Tom Ward's set pieces flying on and off. And the five-piece band, directed by Roberta Jacyshyn, is clean and crisp.

It's impressive. But it's not enough to breathe life into this show.